Evident Financial Announces Promotion of Richard Makowski to Chief Investment Officer
Thursday Jul 15th, 2021
Dave Cullen, CFA, CEO/Owner of Evident Financial is pleased to announce that Richard Makowski has been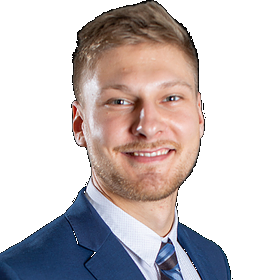 named Chief Investment Officer (CIO) at Evident Financial.
As a member of Evident Financial's leadership team, Richard is integral in setting the firm's investment vision and strategies. He oversees research, selection of asset classes and investment funds, and makes investment decisions in client portfolios.
In addition to serving as CIO, Richard creates our clients' financial plans tailored specifically to their individual needs, preferences, and risk tolerance. Richard works closely with our Client Accounting Specialist, Cherie Sayban, CPA, when developing tax-smart investment solutions for our clients.
About Richard
Prior to Evident Financial, Richard worked at the Gannon University Small Business Development Center and co-founded Qualstra, LLC, an investment-research firm. Together with Dr. Richard Hauser, Associate Professor of Finance and Economics at Gannon University, he co-authored "More Quality, Less Quantity: Diversification and Risk Reduction in Quality Portfolios." The article was published by the Journal of Business, Economics and Technology in 2020.
Richard, born and raised in Cottbus, Germany, attended Gannon University on a full academic and football scholarship. He holds a B.S. degree in Finance and an MBA from Gannon University, and is a Chartered Financial Analyst Level 1 candidate.
Richard and his wife Kelli enjoy traveling, sports, and family time whether here in the U.S. or in his hometown in Germany.

900 State Street, Suite 103 | Erie, PA 16501
(814) 425-5182 | evidentfinancial.com