About ETI
The Erie Technology Incubator (ETI) is located at 900 State Street in the heart of Erie's central business district in Gannon University's Center for Business Ingenuity (CBI).
Entrepreneurial Ecosystem
By bringing together ETI with Gannon University's Dahlkemper School of Business, Small Business Development Center (SBDC) and NWPA Innovation Beehive Network, these entities are dedicated to the advancement of business techniques and processes.
This entrepreneurial ecosystem encourages an unprecedented level of collaboration between budding entrepreneurs, business students, seasoned business faculty, and consultants in a facility that looks and feels like a major corporate headquarters. This type of collaboration further enhances the delivery of services to entrepreneurs in the ETI community.
Our ETI Clients gain valuable insight with this collaboration through:
Faculty as mentors
MBA programs partnering with our clients for real world experience and deliverables
Programming and boot camps taught by faculty
Services, webinars and guidance from SBDC
Ability to connect to the Beehive Network
Beyond the collaboration with the entities listed above, ETI also offers the following services to our clients:
A mentor team that is selected based on the company's specific business needs and challenges
1:1 coaching
Business development seminars and workshops
Monthly business and personal/professional development programming
Market research
Business plan development and refinement
Introductions to qualified investors/resources
Professional services contacts including CPA's, consultants, and general business/intellectual property attorneys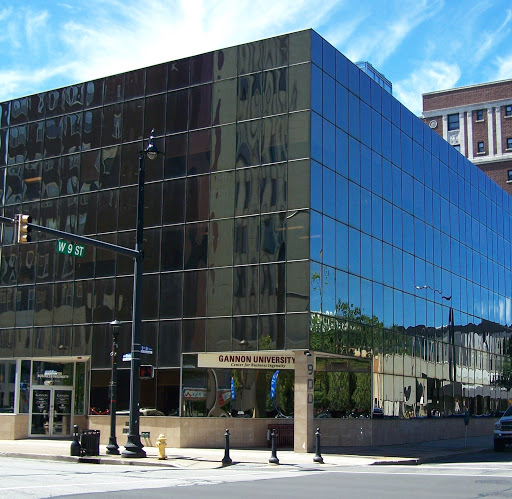 Facilities and equipment that our clients receive include:
Office Space
Our secure office suites are fully furnished with desks, chairs and filing cabinets. Offices range from 100 square feet up to 1000+ square feet and include flexible lease agreements, with spaces structured to allow our clients to grow. ETI clients have 24-hour access to the premises.
Conference Rooms and Office Equipment
ETI offers four conference rooms to our clients. We also have an array of office space and technology equipment available for use by our clients, including conference phones, teleconferencing capabilities, audio/visual equipment, multimedia projectors, laptops, and more.
Parking
There is free street parking 2 blocks from ETI. There are also many surface and ramp lots with daily and monthly rate options maintained by the Erie Parking Authority within walking distance of ETI.
Internet
In this day and age, high tech companies can't survive without high speed connectivity. Shared high-speed internet access by VNET is provided to our clients free-of-charge.
Telephones
Each office is furnished with private telephones and voicemail free of charge.
For more information, please get in touch with us today.