Diversity is transitioning to ordinary at Erie Technology Incubator
Thursday Mar 18th, 2021
Diversity is transitioning to ordinary at Erie Technology Incubator
Published 03/18/2021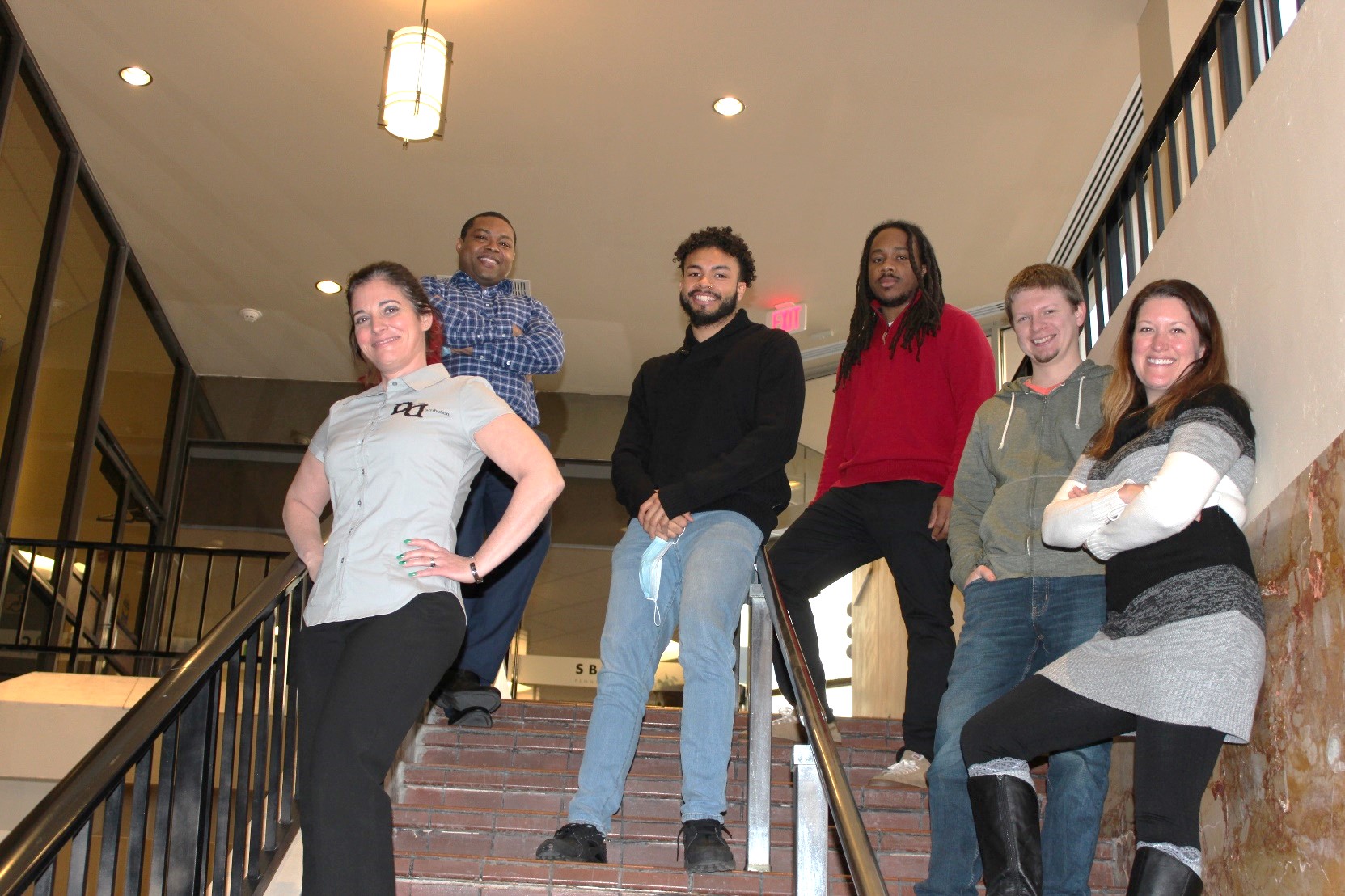 [pictured are ETI's five newest clients – top row: Dr. Ike Ohu of Neat Circle LLC and Geremy Paige of SEED; middle row: Jeremiah Brennin of Centric Technologies LLC and Chenny Langness of Leverage4Data; front row: Kelly Burkhart of Donlon Distribution LLC, and Sara Hanks of Leverage4Data – missing from the picture is Nelson Castillo of Centric Technologies LLC]
The Erie Technology Incubator (ETI) at Gannon University's Center for Business Ingenuity, 900 State Street, welcomed five new clients into its headquarters during the COVID pandemic. ETI is a nonprofit, university-based incubator dedicated to promoting business development through customized mentoring and linking internal and external resources to aid growth.
There is no questioning why businesses are downsizing, and/or shutting down during the COVID-19 pandemic. The stories of struggle and recover are unfolding daily in different ways across the United States. In Erie, Pennsylvania the stories are no different and the scars of the pandemic define a new normal for its economy. At Gannon University, ETI has seen a drop in occupancy creating a new story of retrenching and diversity.
Since COVID, ETI has:


Here are our new companies:
Centric Technologies LLC
Centric Technologies, created by newly graduated Gannon University alumnus Jeremiah Brennin '20 and Nelson Castillo '20, joined ETI in June 2020 as winners of the 2020 Gannon University Innovative Showcase. There is a growing population of foreign-born citizens within the United States domestic labor force. Adequate resources have not been afforded to these citizens to help them secure common working/middle class positions because of their limited proficiency in the English language. The cross-platform Visual Translator application is meant to eradicate this impediment which will help aspiring members of our labor force secure positions that otherwise would not have been possible. This will consequently lead to lower unemployment rates and increase the quality of life for non-native English-speaking families. Using the 2019 "Bureau of Labor Statistics" report conducted by the U.S. Department of Labor we were able to conduct a secondary study of our target consumer and conclude which work environments would benefit them the most. The initial release of our app will have the ability to translate common items applicable to 4+ different workplace environments in 3 different ways being text, audio, and image. The app will be made available in both the Google Play Store for android users as well as the App Store for iOS users. This tool will exponentially help over 63 million employees familiarize themselves with the terms completely necessary to performing their daily tasks and communicating on a basic level with fellow co-workers.
Donlon Distribution LLC
Donlon Distribution joined ETI in December 2020 after being the Global Entrepreneurship Week contest winner. Donlon Distribution is founded by Gannon University alumni Kelly Burkhart '95. Donlon Distribution is a fastener distributor concentrating on buying from U.S. micro-manufacturers to fulfill your specialty item needs. Our team is ready to spring into action to source for you the high-quality fasteners you require, without you going nuts.
Leverage4Data LLC
Leverage4Data, founded by Sara Hanks and Chenny Langness, entered ETI in June of 2020. Leverage4Data, LLC is a software as a service company founded on a simple principle, to disrupt manufacturing software solutions by providing affordable, easy to use solutions with integrated analytics. As COVID-19 has significantly disrupted supply chains, strategies will consider risks above low cost in order to minimize disruptions during catastrophic events. These strategies will require companies to qualify new suppliers in higher volumes. In order to minimize incremental resources and ensure speed, our launch product will combine the rigor of a quality process and collaboration in a software as a service solution.
NeatCircle LLC
Neat Circle LLC, created by Gannon University faculty member Dr. Ikechukwu, Ohu, P.N., entered ETI in June of 2020. Why Neat Circle? Companies dedicate time and resources to digital asset creation and management, research, and procurement. This investment of time and finances can sometimes be very significant. Neat Circle's services and software solutions are designed to alleviate these pains, so creative energy and time are channeled solely towards achieving business goals.
SEED
SEED (Sustainable Education for Economic Development) joined ETI in January 2021. Founded by Gannon University alumni Geremy Paige '19, SEED is a nonprofit corporation that provides education in the areas of financial literacy, computer skills, and decision-making using Software as a Service (SaaS) teachings. SEED provides a financial literacy library and computer training resources enabling social collaboration where knowledge is shared. This is utilized by creating a user base social media network like LinkedIn but focused on educating an underrepresented demographic.
Brad Gleason, Director of Entrepreneurial Operations, is really pleased with a much more diverse group of startup businesses in ETI.
"The Erie Technology Incubator is positioned in the lowest income census track in the City of Erie. Gannon University believes the investment in ETI is a direct commitment to incubate businesses that will anchor in the City of Erie to create jobs, tax revenue in one of the neediest areas of Erie. As the Director of ETI, I am proud to be adding a chapter of diversity through the attraction of more women-owned businesses and underrepresented business owners into ETI in the past year. I feel with this new wave of entrepreneurs entering ETI, that we will look much like our City of Erie and be arm in arm with inclusion while fulfilling our mission of small business development."
Other exciting happenings in ETI during the COVID pandemic include:


All media inquiries can be made by contacting Haley Figurski, Media Relations and Marketing Manager, at 814-823-1886.